I spent some time today working on ==REDACTED==, which had me doing some stuff on the site. So while I was here, I decided to make some updates around here, mostly in relation to the Design page.
The Vela Pax project page has been updated with new screenshots of MAP01 and MAP05. MAP01 got a new sky texture not too long ago and MAP05 had some big architectural overhauls done to it (fixed it so there weren't as many expansive blank walls).
The Back to Saturn X page also got some new screenshots. I have finished two more maps since that page was last updated and there are shots of those two maps now up!
I created a page for the recently released 32in24-12: IRON MAPPER project. You can check out some screenshots of my lone submission and grab a download link while at it.
I did some digging around and found a copy of the PKST2 map set hidden in the Zandronum forums. So I uploaded the map set to my web space (along with its latest patch) and took some screenshots of my submission to the project. Fun fact: many of the ill-fated Sabbat Martyr II maps were added to PKST2! Though I don't know the names of the maps off-hand
As some of you may know, the Skulltag project officially ended its life earlier this year (skullacide?). Zandronum is the continuation of the Skulltag code base and is pretty much the same thing as Skulltag but without all of the content pre-loaded. I had a deathmatch map in that project called Power Mill which is showcased on this page. So I added a little note about this news there. You can still play all of the maps with the new weapons and power-ups, including my map, by loading the Skulltag Data Pack in Zandronum.
I also had to update all of my Skulltag releases noting that they are now to be ran in Zandronum. Any pre-2012 Skulltag release by me will require that you download and run the Skulltag Data Pack with it.
Many other pages were tweaked as well with up-to-date information and adjusted image thumbnail layouts. Since this theme is fixed-width, many of my thumbnails were getting wrapped down an extra line and it looks awkward.
Other changes include removing some of the more useless links, updating tags for some pages, adding a note about the whole Skulltag/Zandronum shift on the main design page, and that's about it!
I still need to make a page about my contribution to the Stronghold: On the Edge of Chaos map set sometime soon. I guess I got too lazy to do it once I remembered that I had forgotten about it again…or something.
To round out this relatively boring post, have a less boring screenshot!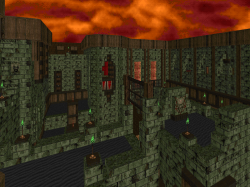 This is one of the last areas I worked on for Faxanadu (Vela Pax MAP04) before getting swamped with other projects. I've already posted it at Doomworld and on some of my social outlets, so it has probably already made the rounds to anyone who might have been interested in it. But eh, I needed something in this post to spruce up all the text

. Maybe sometime soon I'll get a chance to work on Vela Pax again…
Oh wait, that's exactly what I'm planning to do! Once I take care of a few Supplice and Retrograde related items, and start/finish my TNT2: Devilution contribution, that's exactly what I'm going to do!